Your car or truck's AC system is under extreme pressure and the thermal expansion valve or orifice tube monitors the amount of pressure and the temperature of your A/C system. It calculates the precise amount of refrigerant that can safely go into the evaporator. A failing expansion valve or orifice tube often causes a vehicle's air conditioner to blow hot air.
Replace or Repair
Expansion Valves: Too much refrigerant causes your evaporator to get too cold whereas too little refrigerant would result in inadequate cooling. The expansion valve is a complex valve that regulates refrigerant flow. This process of metering the refrigerant adjusts the flow according to the temperature of the refrigerant in the evaporator coil. Talk to one of the pro mechanics at Lopez Auto Clinic, as this part can be replaced on its own and does not require the entire replacement of the AC assembly.
Orifice Tubes: Unlike the expansion valve, the orifice tube is a simple fixed device with no moving parts. It therefore cannot vary the flow of refrigerant into the evaporator, but rather causes a permanent restriction in the system. However, like the expansion valve the orifice tube regulates refrigerant flow through the system and filters debris which may come through in its screen. Often fixing a "bad orifice tube" requires replacing the entire evaporator assembly.
More AC Repair Services:
Truck and Car AC Repair Services
Freon Recharging Services For Your Car Or Truck
What our clients are saying about us
We have established longterm and stable partnerships with various clients thanks to our excellence in solving their automotive needs!
More Reviews

Granted my vehicle is not exactly new, but, I would not take it anywhere else for work to be done. I usually work on my own vehicles but I am no longer able to do the larger jobs. I brought my car to the guys at Lopez because of word of mouth from other old car guys. I asked them to replace my clutch, leaf springs, and shocks. This is not an easy task on these older vehicles being the parts are not they are on todays cars. They found other problem that had issues for the car to handle properly and they have always contacted me to let me know their concerns. They will not let a vehicle leave their business unless it done to the customers satisfaction. It is refreshing to find a business that still has this kind of ethics. Bravo...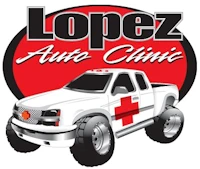 Joel and his folks/family took wonderful care of our car this weekend. We had transmission trouble while driving between Houston and Austin on a Saturday. We called, and they were not only able to get us in with little notice, they were able to get us repaired and back on the road at a reasonable price! I spoke with Joel and at least a half dozen other employees while we were there, and they were all friendly, professional, and awesome to deal with. I can't recommend them highly enough! God Bless.