Modern cars, light trucks, and sport-utility vehicles come with complex technology such as digital dashboards, oxygen sensors, electronic computers, unibody construction, and more. They run better, longer, and more efficiently than models of years past. However, they eventually need to be replaced.

Before taking your vehicle in for repairs or service, do your homework so you receive the best possible service.

Read the owner's manual to learn about the vehicle's systems and components.
Follow the recommended service schedules.
Keep a log of all repairs and service.
Do not ignore any warning signals your car may give you.
Carry a written list of the symptoms that you can give your mechanic.
Resist the temptation to suggest a specific course of repair. Allow our experienced technicians to diagnose and recommend a remedy.
It's important to note when the problem occurs. Is it constant or periodic? Does it occur when the vehicle is cold or after the engine has warmed up? Does it happen at all speeds? Only under acceleration? During braking? When shifting?
Check for the following common vehicle maintenance issues on a regular basis:
Unusual sounds, odors, drips, leaks, smoke, warning lights, gauge readings.
Changes in acceleration, engine performance, gas mileage, fluid levels.
Worn tires, belts, hoses.
Problems in handling, braking, steering, and vibrations.
When did the problem first start?
How to manage your service experience:
Ask as many questions as needed to fully understand your repair. Ask for an explanation in laymans terms if necessary.
Don't rush the technicians. You may be called and apprised of the problem, course of action, and cost before work begins.
Before you leave, be sure you understand shop policies regarding labor rates, guarantees, and acceptable methods of payment.
Make sure the shop has your contact information readily available, so you can be reached as soon as possible.
What our clients are saying about us
We have established longterm and stable partnerships with various clients thanks to our excellence in solving their automotive needs!
More Reviews

Granted my vehicle is not exactly new, but, I would not take it anywhere else for work to be done. I usually work on my own vehicles but I am no longer able to do the larger jobs. I brought my car to the guys at Lopez because of word of mouth from other old car guys. I asked them to replace my clutch, leaf springs, and shocks. This is not an easy task on these older vehicles being the parts are not they are on todays cars. They found other problem that had issues for the car to handle properly and they have always contacted me to let me know their concerns. They will not let a vehicle leave their business unless it done to the customers satisfaction. It is refreshing to find a business that still has this kind of ethics. Bravo...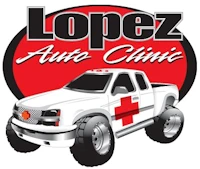 Joel and his folks/family took wonderful care of our car this weekend. We had transmission trouble while driving between Houston and Austin on a Saturday. We called, and they were not only able to get us in with little notice, they were able to get us repaired and back on the road at a reasonable price! I spoke with Joel and at least a half dozen other employees while we were there, and they were all friendly, professional, and awesome to deal with. I can't recommend them highly enough! God Bless.